Cost: $6
Prep: don't remember
This was Thursday night (it is Saturday). I don't remember much about it, but here is the basics.
Veggie: broccoli. Steamed, then quickly tossed in a pan with some soy sauce and olive oil.
Rice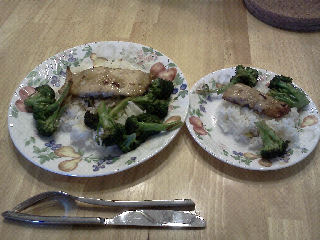 Salmon. Frozen. Mild Chipotle. Very uneven portions. I am glad we only have one child who is not a big eater, as one piece was the size of a tube of lipstick.