Cost: nothing (+$2 for dessert) as it was calculated the day before.
The perspective here is strange. His plate is about 2/3 the size of mine.
Prep: a couple minutes
In all honesty, it is Sunday, and I really let my blog slide this week along with my family's nutrition. Matt's school hosted a big rugby tournament, and he was not around home much. Now, I am going back and trying to remember what we had.
This post is about Thursday. Wednesday I was ill and didn't eat the dinner, so on Thursday there was more than enough leftovers--actually, there is still quite a bit of chicken in the fridge that probably should be tossed now.
I simply heated it up on plates in the oven: chicken, stuffing, and broccoli. Charlie and I--no Matt that night--sat down to eat and it was just awful. Bland, dry, tasteless. It really needed gravy, but someone had decided that gravy was gross the night before and tossed it.
So, you know what saved the dinner for us? Ketchup (for Chuck) and chipotle aioli (for Mom). Charlie pretty much just ate handfuls of ketchup, but he ate a bit of broccoli too, so how picky can I be?
The meal was fairly meager. I still wasn't too pleased with it even with the saucy additions. We decided we saved enough calories to break into the Easter candy for dessert. This has been an added bonus to having a small child: people buy him candy. He cannot self-regulate his candy, so Mom and Dad eat a bunch of it.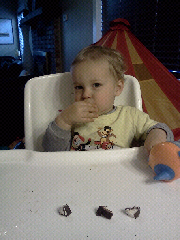 Charlie had a chocolate covered marshmallow, and I had the Oh Henry version--boy are these smaller than what I remember! Regardless, we cut them up and savored them. Charlie was really mad at me though when there was none left, so he finished his meal with some crackers and cream cheese. I guess he really wasn't feeling his dinner either.