Cost: $10
Prep: 30 minutes
Yum! Was this ever a good meal. It took Matt and I a while to make this, and it would have taken a lot longer had I done it all on my own.
Matt dealt with the veggies. I wanted to fresh salsa, one of my favorite things Matt makes. Tomatoes, limes, onions, and cilantro. Sometimes he put jalapenos in it, but since Charlie now dines he left it out. Matt wanted coleslaw: carrots, red cabbage, green cabbage.
These became the toppings for the fish tacos.
Making the salsa
I, meanwhile, fried up 600 grams of cod. Broke it up small, and served it plain. We ate the fish with sour cream on tortillas (wheat because Superstore didn't have corn and the corn ones at Thrifty's are awful). The little tortillas were surprisingly good and only 70 calories each.
The salsa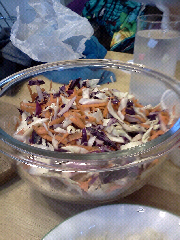 The coleslaw
The distractions
The fish
The ingredients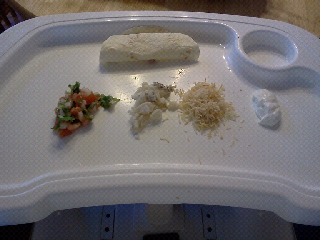 Bebe gourmet