Cost: $10 (+the cake)
Prep: 40 minutes
We had a guest for dinner tonight. Our friend Melissa was in town and graced us with her presence at dinner. It was great to see our friend, but unfortunetly I didn't have time to do anything special for dinner except add some rolls and an extra vegetable.
Charlie did something special though: he wore a gold sticker on his forehead for most of dinner, until I tried to take a picture. Then, he took it off and tried to eat it, so that was the end of that.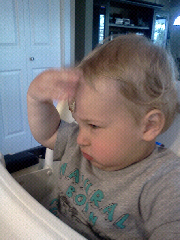 For dinner I made Shake'n'bake chicken legs, cresent rolls, steamed brocoli, corn, and baked potatoes. Nothing was all the great, and only one thing was terrible. Can you guess what was terrible? Of all things that could be, it was the freaking canned corn! It was the worst canned corn I have ever tasted. It wasn't sweet at all. It was Thrify's Compliments brand, and everything we have tried from this product line has been terrible. We will not be trying it again.
The baked potatoes were also way too big, but we got around this by eating only 1/2 of one each. I slathered mine with fat free sour cream and green onions.
Anyway, we ate sensible portions for dinner.
Therefore, we indulge in dessert. Matt bought a little black forrest cake from the grocery store. It was fairly decent for a store bought cake, maybe a little on the dry side with not enough filling, but it still hit the spot.