Calorie-wise, today is a write off. We went to go for breakfast, but kind of got lost finding the place. We ended up eating McDonalds breakfast. It was almost 9:30, and I had done my insulin at 8AM, we had to have something.
We were out in Sidney taking Charlie to his favorite place, the Shaw Ocean Discovery Centre. Of course, if it is open, we always have to get some lunch at the Sidney Bakery after.
It is my favorite bakery. We did NOT make healthy choices though, but we did try to pace ourselves with our treats.
As our "main", Matt and I had a pepperoni-cheese stick. Charlie had a plain cheese stick, but helped out with all the pepperoni. These are so fresh and soft. Yum.
Then came the desserts. We got 3 x2 (starting from top):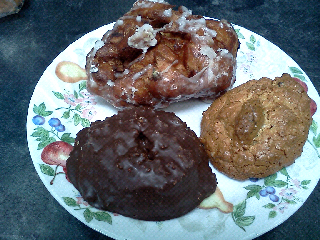 Apple fritter: we always get these. So yummy because soft inside and crisp outside. Very little glaze, which I prefer.
Chinese chew: new to us, a chewy cookie which seems to use a lot of brown sugar. Large pieces of date inside.
Chocolate mound: THE BEST treat in THE ENTIRE WORLD. Okay, well, maybe not the far, but it is fabulous. A giant macaroon covered in chocolate.
Now, before you judge, we did not finish these treats until breakfast this morning, but when prices are as good as they are at the SIdney Bakery, how can you resist? Everything was only $10!