My bestie Tina is in town! Charlie and I were supposed to go out to dinner with Tina and her boyfriend last night, but someone, ahem, had too much fun the night before, so it was just the tiny may out with the ladies.
We ended up going to Ferris'. I love Ferris'. I have never ordered something here that I did not like.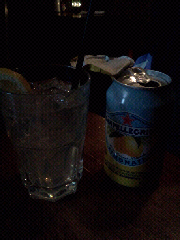 They have made some updates to the menu though, and the prices have been raised on some items (quite significantly on some things, like salads, in my opinion).
When dining out with baby, Ferris' is not the best. The high chair they provide is much higher than the tables, and the last time we were there (December maybe?), he quickly learned to scoot it across the floor.
So, this time, I brought our own booster/highchair that could go in a booth. It worked.
Tina and I both had a Limonatta to drink, an oyster burger with sweet potato fries and ginger mayo to eat. I love the way they fry their oysters, and my burger was very good, but it had barely 1.5 oysters. Next time, I am going to try the new smoked oysters wrapped in bacon I saw on the menu. (I'm sorry the picture sucks. The lighting is dim, and my camera phone sucks.)
If you were going to go here with a baby, I think they appreciate that we went early. I think most places do. We ate at 5:30, our food didn't even take 10 minutes, meaning the baby had very little time to get crabby. Plus, by the time we left at 6PM, the place was full, and the seat taken up by a non-paying customer (16 months old) can now be given to someone who will order drinks and food and pay for it.
Anyway, back to the food. Other dishes I enjoy include: Warm Spinach and Goat Cheese Salad, Caesar Salad (especially with oysters), Chicken Penne Soup, Lamb Burger, Falafel, and all the oysters, clams, and mussels.
Damn, I have made myself hungry. I can't wait to go back.