Cost: $11
Prep: 45 minutes
Today's dinner took a while to prep because I made(almost) everything from scratch, which is not what I usually do.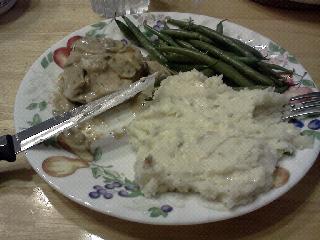 We had our usual pork chops with mushroom gravy, and I did still use Campbell's soup, but I used fresh mushrooms instead of canned. This turned out better, especially as Charlie loves the mushrooms and will eat a ton. I'd rather he eats mushrooms that were recently still resembling mushrooms than ones that have been floating in a salty brine for months.
I also made mashed potatoes, which was the majority of the prep time. I mixed in sour cream and herb and garlic cream cheese with the milk so that the flavor was a little unusual and fresh.
We had very tasty steamed green beans. I melted a but of margarine and added a touch of salt and pepper, and these simple acts made the meal exceptionally better.
Matt eating
Charlie eating
Tina eating