My date
I had a lady date last night. My friend Amanda and I went for dinner and a play. We decided on Ferris' Oyster Bar. I know I just ate here a little over a week ago, but the menu is so varied I don't really care.
We went to eat at 6PM, on a Saturday, with no reservation. We did wait a couple minutes, but that was so we could have a window seat. I guess that is the advantage to being a table of 2 and not needing a high chair.
We co-ordered. We started by sharing a new item: the smoked oysters. Wow. These were great. A large oyster wrapped in bacon. But, be prepared: it is a small serving of only 3 oysters, which isn't the best for sharing even though we managed to half one. Sorry, there is no picture of this, as we dug in too fast, as is usually the case with the first course.
My fries
We also shared a big bowl of yam fries. What a mistake. We only ate half. A big bowl is just too big unless you are with your husband who eats like a teenage boy or you are with a teenage boy who eats yam fries. I love love love the ginger mayo, so of course I had that.
My soup
As our "main", we each ordered a Spicy Chicken Penne Soup. Yum! Wow, that broth is great. I love th carrots and celery, and especially the dumplings, but I am not so hot on the chicken. Amanda really liked the chicken, and I do admit that it is very tender, but I mostly left mine. The soup was served with two hunks of very nice bread, which we barely could touch we were so full.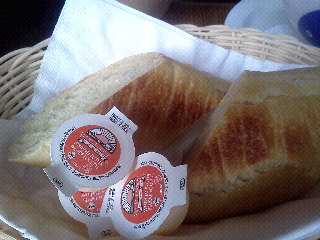 My bread