And so ends our Dine Around Victoria adventure....
Friday night was the last of our journeys downtown. We did a 7:30 double date with another couple (early for them, late for us) at Shima Sushi. We're glad we had a reservation, as there was a party of 10 seated shortly after us, and there really isn't terribly much seating to begin with.
So, the service: meh. For the ratio of staff to customers, I really expected more. We were seated without place settings, and the waitress didn't notice until after the appetizers arrived. She said she was going to get some, and then never returned, so after waiting another 5 minutes and watching our girl do different jobs, I flagged down someone else to bring us some chopsticks (can't eat salad with your fingers after all).
The entire experience was slow. It took our 3 courses about 2 hours start to finish, but the company was good and the ambiance is pleasant.
The food was tasty and well prepared. The men had the seafood tempura, and the women had the Prawn Sunonomo Salad. The appies, however, did take much longer to arrive than I would like to see, but it was very busy.
Salad
Tempura
For our mains, Matt and I both had the Hibachi steak. It was a nicely cooked meat, but the steak sauce they serve with it was skimpy for the steak, rice, and vegetables. I left most my veggies in the end as they were completely plain and limp. The table next to us received much larger portions of sauce, but we assumed that this was the last of it, as when they asked for more, they were denied.
Hibachi steak with tiny 1/2 full jug of sauce
Our friend had the sushi plate. It looked fantastic and fresh. I tried a little and it lived up to my expectations.
Matt and I also ordered a Dynamite Roll (BBQ eel and real crab) that had a nice filling, but it was cut so thin and the rice was so inconsistently thick, I couldn't pick it up with my chopsticks without it crumbling.
For desert, two of us had the blueberry cheesecake and two had the tempura banana. The banana was lacking in banana flavor, and I assume it was actually a plantain. Matt liked that it was served with ice cream, but I did not like the taste of the batter--it wasn't cooked in a deep fryer reserved for dessert if you ask me.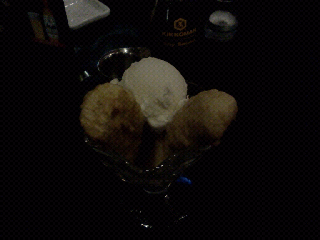 Hard to see: banana tempura
The cheesecake, however, was very nice with lots of real blueberries throughout, and it was a decent sized portion. My only complaint is that it was a little frozen in the middle, which makes me think they don't make this dessert on site. I also didn't think the Nestle Quik poured on the plate was a very good pairing.
Blueberry Cheesecake
Anyway, for a night out with friends, we had a great time, but I think we will stick to our usual sushi places for occasional sushi outings with the baby especially.