I hosted a baby shower for my dear friend Mo today. I told her she should know that she is extra-special to me because I baked her TWO things.
I will post more pictures of the other food later, but these are the treats I baked. The theme of the shower was "Whooo loves you baby? We do!" so I decked everything out in owls.
Successful owl cookie
Non-successful owl cookies; I made them too big.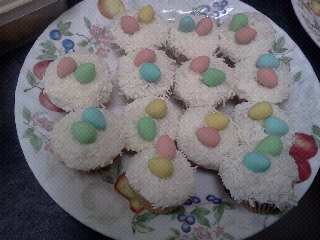 Butter pecan mini-cupcakes with cream cheese icing, coconut and mini-eggs to look like nests.
As part of the favor, a boxed mini cupcake. These went in a bag I made with book marks (with a owl that Mo painted on them) and tea.