Our little family ventured out to Keating this morning to try the Red Feather Cafe. We had bought a Couvon and are always looking for a new breakfast joint. I am not going to "rate" whether I like it or not on Urbanspoon because our family's reviews are very mixed.
Matt was a big fan. He said he would do the drive again to eat here.
I said that I wouldn't, even though it had some positive attributes.
Charlie said, "Mamama ball ba ba da ca ca ok".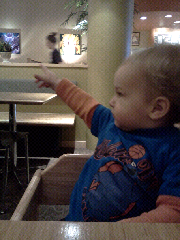 Charlie enjoying the decor
I really liked the decor: flowers and chickens, bright and clean--very clean. The service was okay, although the waitress who sat us did not even acknowledge that we had a small person with us, bring a highchair, or bring a water for him. We had to ask for a highchair, which may be because 18 year old girls think toddlers will sit in a booth? I don't know. Regardless, the next waitress who visited offered crayons, which we turned down so we need not repeat "Don't eat the crayons!" for the rest of the meal.
The menu was decent; although, again, no kid's menu. Breakfast places: put on your menu a $3 single pancake for kids (the awesome Willie's Bakery does) or a $4 single piece of toast, 1 egg, 1 bacon.
Matt and I both ordered the Crab Cakes Benny. This is where we have mixed reviews.
I thought it was strange that it was still served on an English muffins. Yet, the crab cake was on an English muffin. This worked in our favor, as Charlie had some muffin, but it is unnecessary. I ended up deconstructing mine and eating the crab cake separately.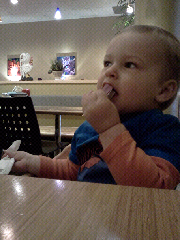 Charlie eating eggs, I mean a napkin
I wasn't a fan of their eggs or their Hollandaise. Both were very bland. I, like Charlie, might as well have been eating my napkin. Also, the eggs were incredibly watery.
The crab cake, however, was good. We had a disagreement over it at first; I thought it was made with imitation crab. But I did concede to Matt, who argued that it was real, and we later agreed that it probably was so spongy because it is canned crab meat.
We also both agreed that the hashbrowns/home fries were well done. Very crispy with lots of green onion! My only complaint about these is that I had one that tasted very dirty (ie like soil still).
I don't really have anything else to say. The Red Feather Cafe was okay; I wouldn't recommend it, but I wouldn't caution people against it either.