As Matt and I continue our weekly Dine Around adventure this month, we are trying to go to new places that are off our usual grid. There are a few staples we go to and are willing to pay full price (Ferris's, a couple sushi places, a couple pho places) and a few we are not (Nando's for example). Dine Around gives restaurants a good chance to put their best foot/food forward and let us us decide if we are willing to go back.
So, last night we dined at the Flying Otter Grill. I have nothing but great things to say about our experience.
The location is beautiful. I wasn't paying attention when we walked out though, and I am sure I could have walked right off the dock, but I didn't, clearly.
The staff was fantastic too. All the waitresses/hostesses working did a great job. Our waters were filled 3 + times, and the server was honest. I asked her if it was crazy to order extra appetizers on top of the Dine Around menu, and she said that the appies with the dine around are small, but if we ordered extra there would probably be something we couldn't finish. Very true.
The food was fantastic. We both agreed it was the best $20 Dine Around menu we ever sampled.
Oops! We ate the appies before snapping a photo, AGAIN!
The Flying Otter also seems to have great specials. We started by taking advantage of the 2 for 1 appie special. We tried the poutine and 10 Jamaican jerk wings. The jerk sauce was nice, spicy, but not over-powering, and the bacon was a great addition. We'd like to go back on a Thursday and try out the steak special ($10.95 for steak, prawns, baked potato and salad).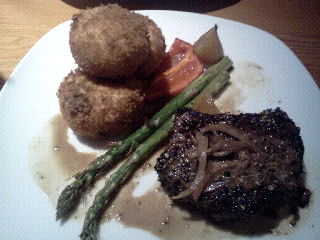 Now, the Dine Around. I had the calamari to start. I could have eaten this all night. Seriously. Every time someone else got it, I started to salivate again. Matt ordered the salad with candied bacon and capers. Wow. It was special, creative, and unexpected.
For the mains, Matt had the steak with potato croquettes. It was fantastic, but the highlight was the asparagus that came with it. Oh. My. God. No idea exactly what they did to it, but I could tell it involved something with a lot of butter, and it was one of the best veggies I have ever eaten.
I had the salmon wellington. By this point, I was really full (as predicted), and managed just over 1/2. The mashed potatoes and red chard were well done, although red chard is not really my cup of tea. I ate a little more than usual, because Daddy Matt gave me the old, "Do you know how good that is for you?" Anyway, the salmon was very well done, and the pastry on it was crispy and flakey.
Desert was a highlight. I had the lime tartlet. Divine. Matt had the tempura bananas and, although it looked like a turd, it tasted fantastic and was a HUGE portion.
The tables to our left and right did not have the Dine Around, and what they ordered looked great too (Tuna Salad and Surf and Turf to my left, Burger and fries/Wrap and salad to the left), and they raved about the food as well.
We will try the Flying Otter again, next time for breakfast. They seem to have a few choices for bennies, and I just can't resist!