My mother and I are self-proclaimed connoisseurs of tea and the spread that goes along with it. High tea. Cream tea. Tea parties.
I don't know what it is. Maybe it is the daintiness of tiny foods? Maybe it is the richness in small portions? Maybe it is the tradition? No, strike that last one; it is definitely tied to the food.
So, when the bachelorette party I was to be joining (I had skipped the first event of pole dancing--this belly is too much of a liability) decided to make their second stop the James Bay Tea Room, I needed to check it out.
The tea service at the old Blethering Place was kitschy and fun. I miss it.
The tea service at the Empress is delicious, extravagant, and beautiful. But it is expensive.
I was hoping that this would bridge the gap between the two: an inexpensive yet delicious tea.
It didn't.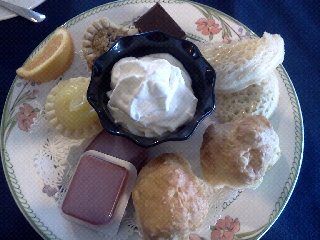 We all ordered the light tea. Now, nothing was horrible, but nothing was all the good either.
My biggest complaint is that very little seemed homemade. When my mom puts on a tea, she makes almost everything herself. And the homemade jam at the Blethering Place was one of the highlights. Here, almost everything was prepackage; the jam was even little Kraft packets.
The crumpets, tarts, Naniamo bar, and whipped cream all screamed "store-bought". I am fairly certain that they do make their own scones though.
And, the fruit. A tiny orange segment? This is summer. You can do better. Throw a berry, piece of melon, anything else on there.
Anyway, it wasn't awful. The food was nothing special. The service was a little overbearing--the waitress kept jumping into our conversation with her own comments--but maybe they were bored as it was not very busy.
I wont go back, and judging by the Urbanspoon rating, I should have had lower expectations because most people will not revisit.