We have been wanting to try Blue Fox for a while. Many of our friends speak very highly of it. We have also been cautioned against going there and expecting a table right away.
However, it is Monday morning. We are heading out at 8AM; Matt doesn't need to be in today; I will be fine if I am in for 9. We head downtown with C to check out the hub-bub.
We get a table right away, but it is close. There are not many left even on this odd day at this early hour. The host bring us an acceptable high chair and offers crayons.
Our waitress, however, is not so baby adept. She bring water, but only 2. She does not ask if she can bring a side plate or anything for the little one; however, the host, again, checks on us later and bring said side plate. The service was also speedy, and if we were coffee drinkers, our coffees would have received many refills.
Matt orders an omelette: the Mexi-Omelette. It is HUGE. MASIVE. It looks great, and the main ingredient is pulled pork. He selects the raisin toast. This is the first time he isn't able to finish a breakfast, but the waitress packs it up for lunch. Although, generally satisfied, Matt thinks that pulled pork in an omelette is weird. The toast is the highlight, as is the tiny cup of preserve.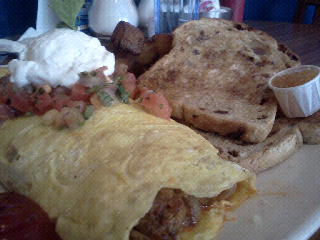 I order a benny: the Badger Benny. I have very little positives to share. I don't like the bagel. It is too tough and difficult to cut through. Also, Benny is heavy enough; I'm not worried about the calories (duh, butter butter butter sauce), but why add something to make you feel like you ate a brick? The sausage casing is stringy, and really should have been removed since it is dangling in the sauce like a (I edited out here what it was dangling like, as it was just too gross and expletive, but I will fill in the blank upon personal request). The tomato was over grilled and possibly over ripe, to the point of being mush. The hollandaise was good, but it was nothing to write home about, or pay $13 for for that matter. On the plus side, the eggs were perfectly done.
Anyway, the bill was $30 with no drinks. Although the food was mediocre, I will not write this place off. I wish I had had the Breakfast Salad or the Apples French Toast. If I have an opportunity to go back, that is what I will try, although I will not go out of my way to make an opportunity. I really think the draw here is portion size, and really, I would have have excellent flavour over anything else.