I have been going to Esquimalt Buccaneer Days for as long as I can remember.
Seriously, my first memory of it puts me at less that school age (4), having pancake breakfast with my friend Eric and our families.
Last year, we took Charlie to see the parade, and although he was interested by the sounds, colours, and general goings-on, he eventually feel asleep.
This year though, we resurrected my family tradition and joined another family for pancake breakfast followed by parade.
The pancake breakfast is what you would expect: a couple pancakes and sausages with juice and coffee served in the Archie Browning Centre. But really, is this about the quality of the food? No. Plus, the $ goes to support community groups. (Plus, I really liked the food. I love cheap pancakes and sausage.)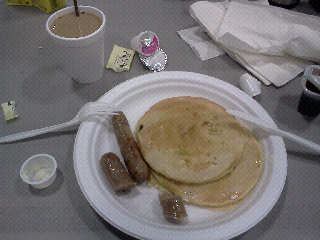 The real fun was at the parade. Because the weather was nice, we had to secure our spot early which left us pregnant moms and busy dads with some very cranky toddlers.
Steele and Charlie both thought the parade was just about the best thing they have ever seen. Every time a float or display would end, Charlie turned to me (and away from the parade) and asked "mohr?" like I controlled the parade.
His favorite part, aside from the bands, was the A&W lollipop that was given to him (as well as a few chocolate coins). It was too bad though, because ALL I wanted out of this parade was a rootbeer sucker of my own, so whenever Charlie turned his baby-head, I took a little pull on the 'pop.