Tonight I met up with a bunch of my mama friends sans babies. We went to Original Joes in Langford.
One of our party arrived super early to secure us a table, but I don't think they take reservations and there was a line at the door.
We all indulged in different ways.
Drinks: many ladies ordered a giant cocktail. I ordered a virgin peach margarita. The picture shows about 1/2 of it. It was huge. And it wasn't too expensive; I think just under $4. It was so tasty. Yum! But, my only complaint was that there was a ton of huge chunks of ice in it. I had to wait and wait and wait for it to melt a little. The chunks were so big though, it never happened! Oh well.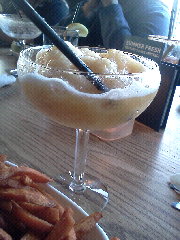 Appies and Dinner: I didn't converse with anyone as to how they felt about their meals, but I ordered an appie of sweet potato fries to snack on. And, in all honesty, they were some of the worst sweet potato fries I have ever had. The flavor was fine, but they were so limp and soggy. I would definetly not order these again.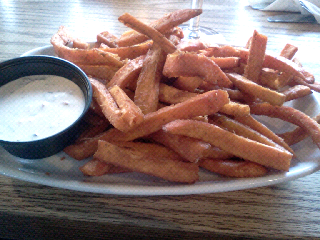 Dessert: A few ladies ordered dessert, and the portions were huge and looked delicious!
Anyways, I am in the middle of watching Forrest Gump and since I have said all I am going to say, that's all I have to say about that.
Actually, one more thing: this place is FAR from being child-friendly. They don't have high chairs or kids menus, and I feel that young ones just aren't welcome. Maybe this is a place go on a date night, grown-ups only.