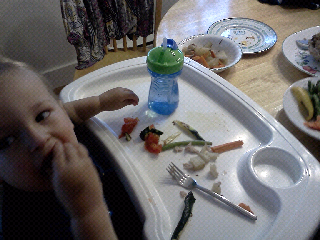 Cost: $10
Prep: 20 minutes
Mom is going out! But, before she does, she has been kind enough to feed her men.
I put a pork roast in the slow cooker this afternoon, along with onion, garlic, rosemary, potatoes, and carrots.
For the veggies, I served them my leftover lunch. Seriously. The lunch was grilled veggies, and it was WAY too big a serving for me to eat all at once, so the boys had a hearty serving with dinner.
Okay boys, I have a date! See you later!
Love Mom