My Hams
This is our new favorite breakfast place hands down.
We were very disappointed with our trip to the Blue Fox a few weeks ago, and after all the praise that place gets, how can this place not have a line-up out the door?
Well, I guess I know why: it is out of the way in an obscure and industrial part of Sidney, but we were going out the the Shaw Ocean Centre again, so it was part of the trip. And, from now on, we will make it part of the trip.
Dish has a totally diner feel, and I love that. I hate when places try too hard to be something they are not. This place is totally clear what they are: a diner that serves home style food of a high quality.
The service is fantastic too. And they made their own hot sauces. We tried them all, and our favorite was a sweet chipotle one that replaced ketchup for Matt (who usually puts ketchup and his ketchup).
The child friendly factor was high as well. When Charlie started to crab, they brought out a basket of toys and books for him! How awesome is that?
Matt and I both ordered skillets, but there were a million other things we could have tried. Something that looked like berries on French toast came out just before our food did looked fantasticly drool worthy.
We were very happy with what we had though (and it sounded the same for all our dining companions).
I had the Turkey Sausage and Bacon skillet with sourdough toast (and house made preserves), poached eggs, and hollandaise. The meats, as far as we could tell, were all made there and freaking fabulous! My skillet also had tomatoes and green onions (and hashbrowns of course).
Matt had one of the daily specials (they had many written on boards around the room). This was a Jalapeno Sausage Skillet. It had red peppers, crispy onion, mushrooms, the sausage with sweet potato hash browns.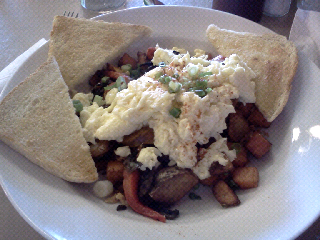 Oh god. Now I am hungry again (although I wasn't AT ALL for a long time after this meal).
We will be back, sooner rather than later. I quickly added this place to my "favourites".