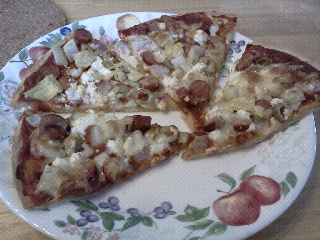 Cost: $6
Prep: 10 minutes
Did you notice? The spelling mistake in the title?
It is there to symbolize what happened to this dinner. Matt thought we had peppers; we didn't. I thought we had pineapple; we didn't.
Instead, we had pepperoni, cheese, olives, and onions. Hmmmm.
This left us scrambling a little, and we managed to find other toppings. We did pull out a jar of artichoke hearts and a small piece of feta cheese. Dinner felt much classier after that.
To class it up even further, we drank Moutain Dew. What is pizza without a soda to go with it?
Charlie, however, just had water.