We are on the mainland for a wedding for a few days. We left a day early to take Charlie to the aquarium. However, a bonus of this is that Matt and I got to eat at our favorite pasta place in THE WORLD. It was less than 15 minutes off course on the way to Stanley Park, and we were very happy people.
We started coming here years ago when a girlfriend of mine was a server here. She helped us learn the best ways to order. It may look like we are over-doing it, but we always have a plan!
Our favorite is the Emiliana. We ALWAYS have this one. It has chorizo, olives, feta, tomatoes, and possibly other stuff. Man, it is good! It is my favorite pasta dish in the entire world. The best I think I have ever had.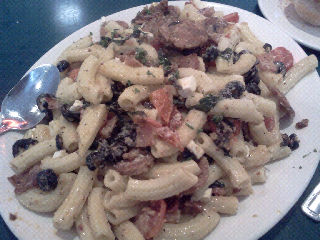 This time we also tried the gnocchi in the pesto marinara. Matt likes gnocchi, but I find it too plain no matter the sauce. Still, this was very good.
We ordered the dinner size, as we did not want to have to find dinner (which ended up working very well, as Charlie puked as soon as we got to where we were staying, and we didn't want to take him out again). We had a full plate of pasta again!
We will be back at Anton's on every opportunity we get. And because these opportunity is less than once a year (well, we were here in November, but not since 15 months or so before that), neither of us feel bad for indulging. And, as a bonus, even with the dinner sized servings, our bill is always under $30.